Over 90 Years

industry expertise

Largest

facility & product range

Leaders

in the technology market

UK Based

service department
Industry 4.0
The shift to smart factories and automation is a significant concern within Britain's steel industry with Industry 4.0 requiring additional skills, software and training. At Ficep UK we provide solutions to overcome those challenges. We believe that for the steel industry to be ready for Industry 4.0 it needs to reassess what skills will be needed over the next decade as smart machinery becomes more prevalent in steel factories.
From using manual processes to suddenly transferring to automation can be difficult. One challenge of this is the availability of skills. Before investing in Industry 4.0 and new automation, people need to pre-plan to understand how the systems integration will impact their business, which systems will work most effectively in their environment.
This will better allow directors to see where they are going to be with production and productivity, and in turn, by using these advanced automatic systems and machinery, customers will have increased visibility.
Software is vital to operate automatic systems, and it's in this area we focus on education, putting Industry 4.0 and automation at the forefront of the steel industry through educational events like our open days.
Ficep open day's are very popular amongst a vast customer base to get a feel of what's possible in their own facilities and explore where the new technology can take their business.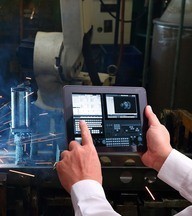 Our open days show us that the steel industry is engaging with new technology and committed to preparing the UK steel industry for a digital future.
We will continue to educate and support customers towards achieving this goal.
For more information on Industry 4.0 please watch our video: Industry 4.0 video