Over 90 Years

industry expertise

Largest

facility & product range

Leaders

in the technology market

UK Based

service department
PVX
The high flexibility of the FICEP friction screw presses gives it a wide range of uses for different shapes and sizes of parts thus resulting in technical and economical optimization in the hot forging of steel, brass and aluminum and in coining. The friction screw presses incorporate all the advantages of the drop hammers and of the eccentric presses but they do not have their deficiencies and limitations. In fact: With all the energy and shock of the screw press confined in its closed ring frame, the foundation requirements are minimum, no shock is transferred to the floor and the noise is very low.
The screw press is basically very simple with few moving parts. This simplicity translates into sturdiness, high throughput rates and corresponding low maintenance costs. The absence of a bottom dead center eliminates the possibility of sticking the press when the material is oversized, too cold or misplaced. This does also enable a sequence of several blows on the same part. Energy levels can be preset easily and precisely thus optimizing energy consumption and production regardless of the skill of the operator.
High energy levels available for each blow result in a smaller screw press doing the same work of a much larger eccentric press (1.3 to 1.6 times larger eccentric press is required). Pieces forged in one or two blows under a screw press require at least 7 to 8 blows under a hammer. This also means a reduced wear of the dies. The screw press can be easily integrated in fully automated forging systems.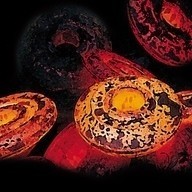 Tech Specs
| PVX | PVX 160 | PVX 180 | PVX 200 | PVX 230 | PVX 260 | PVX 280 | PVX 310 | PVX 350 | PVX 370 | PVX 410 |
| --- | --- | --- | --- | --- | --- | --- | --- | --- | --- | --- |
| Screw diameter [mm] | 160 | 180 | 200 | 230 | 260 | 280 | 310 | 350 | 368 | 410 |
| Max. continuous force [kN] | 4350 | 5200 | 6700 | 8500 | 9100 | 12800 | 17000 | 21600 | 22000 | 25600 |
| Gross energy [kJ] | 17 | 26 | 40 | 54 | 60 | 105 | 140 | 200 | 220 | 280 |
| Max stroke per minute [no.] | 50 | 42 | 35 | 32 | 30 | 28 | 26 | 24 | 22 | 20 |
| Ram stroke [mm] | 300 | 350 | 400 | 425 | 450 | 475 | 520 | 550 | 550 | 550 |
| Vertical clearance [mm] | 400 | 400 | 500 | 600 | 600 | 700 | 560 | 500 | 1100 | 1200 |
| Horizontal clearance [mm] | 370 | 500 | 575 | 600 | 600 | 700 | 700 | 760 | 900 | 1100 |