Over 90 Years

industry expertise

Largest

facility & product range

Leaders

in the technology market

UK Based

service department
S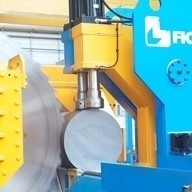 Ficep has more than 80 years of experience in the manufacture of billet shears and CNC shearing systems which is presented in our new range of high performance disc sawing machines fitted with 'carbide tipped' blades. These new sawing lines overcome all the limitations of traditional disc or band saws and increase productivity output thanks to their exceptional performance in terms of speed, accuracy, sawing quality and allowing a reduction in scrap production. This also results in a sizeable reduction of cutting costs!
EXTRAORDINARY EFFICIENCY
PRODUCTIVITY: bars with diam. 50 mm and length 100 mm = 400 pcs/h
SCRAP: bars up to diam. 130 mm = 2,7 mm
COST PER CUT: 50% less than the cost using re-ground blades
CUTTING QUALITY: perfectly parallel, flatness, roughness and absence of flash
SET-UP: simple and fast.
| S | S 30 | S 35 | S 42 | S 50 | S 56 |
| --- | --- | --- | --- | --- | --- |
| Disc Diameter [max. mm] | 315 | 360 | 420 | 500 | 560 |
| Round (min/max) [mm] | 15/80 | 30/110 | 30/130 | 40/150 | 40/180 |
| Square (min/max) [mm] | 15/65 | 30/100 | 30/100 | 40/140 | 40/165 |
| Installed power [kW] | 12 | 27 | 33 | 36 | 39 |
| S | S 80 | S 90 | S 110 | S 140 | S 200 | S 220 |
| --- | --- | --- | --- | --- | --- | --- |
| Disc Diameter [max. mm] | 800 | 900 | 1120 | 1520 | 2000 | 2200 |
| Round (min/max) [mm] | 60/230 | 60/280 | 100/350 | 120/500 | 200/600 | 300/800 |
| Square (min/max) [mm] | 60/215 | 60/260 | 100/320 | 120/440 | - | - |
| Installed power [kW] | 55 | 58 | 90 | 140 | 224 | 240 |