Over 90 Years

industry expertise

Largest

facility & product range

Leaders

in the technology market

UK Based

service department
CTCH
Hydraulic Hot Shears CTCH Series
Ficep is, by far, the world's leading manufacturer of fully automated hot shear lines. The Ficep CTCH series are able to shear slugs at forging temperature next to the forge press. From bar stock to finish forging, all controlled by the press operator. The Ficep Hot Shear ensures the best return on investment due to:
Elimination of unnecessary material handling.
Elimination of sheared parts storage.
The ability to make immediate volume adjustments to compensate for forge tool wear.
Lowers the ultimate material cost required.
Reduces scrap.
Allows the shearing of cold shear crack sensitive materials.
Inline process reduces the relative energy cost.
Consolidation of operations reduces the labor cost.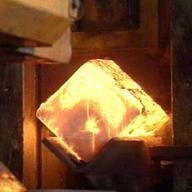 | CTCH | CTCH 70 | CTCH 100 | CTCH 140 | CTCH 180 | CTCH 250 | CTCH 300 |
| --- | --- | --- | --- | --- | --- | --- |
| Round (min / max Ø1150°C) [mm] | 30/70 | 40/120 | 50/160 | 80/200 | 100/250 | 100/300 |
| Square (min / max Ø1150°C) [mm] | 30/60 | 40/100 | 50/140 | 80/180 | 100/250 | 100/250 |
| Installed power [kW] | 30 | 50 | 64 | 100 | 150 | 160 |
The hot shears of the "CTCH" series are able to heat and cut the bars in one only operation for immediate press feeding. These machines ensure the best return on investment because of:
• Possibility to shear steels that cannot be cold sheared
• Reduction of the material flow inside the factory
• Reduction of the material cost
• Reduction of the forging scrap
• Reduction of the heating cost
• Reduction of the costs for the personnel involved