Over 90 Years

industry expertise

Largest

facility & product range

Leaders

in the technology market

UK Based

service department
Barrett Steel Deliver with Ficep machinery
Barrett Steel, which operates 30 sites across the UK, including two key sites in Bradford and Shoreham employ 4 Endeavour saw drill lines among other Ficep machines and one Tipo A31 Plasma drill at Rotherham, taking the total number of installed Ficep machines to 11.
The family-owned business has been a Ficep customer for many years, but recent growth and site acquisitions generated a need for further steel processing machines with a focus on automation across three of Barrett Steel's sites.
John Childs, Operations Manager explains:
"We were influenced by the capabilities of Ficep's automation and the Endeavour in particular. Line automation removes the need for operatives to touch steel between operations which, result's in reducing the of risk accidents for operators. This is a major factor in any decision making for us."
The biggest benefit from installing the Endeavours has been the significant reduction in the handling of steel. The Endeavour enables operators to put material on at one end and remove it at the other end in its completed state. Not only does this improve safety by reducing the need to handle steel, it also frees up the operatives to do other productive activities. This one change is contributing to a huge 40% increase in productivity, in particular at the Bradford site and has seen machine utilisation running at around 90%.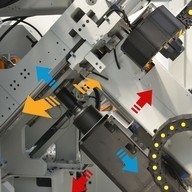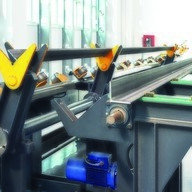 In a company like Barrett Steel which works in industries ranging from construction to offshore, to rail and modular buildings, any gains on productivity and efficiencies contribute directly to better lead times and improved capacity. In short, they can deliver more product to customers, faster.
It was this capability which convinced John of the need to install the Endeavours, as he explains:
"The Endeavour machines, at the time of purchase, were, in our opinion, the most sophisticated unit on the market. In the Endeavour, Ficep has a powerful machining centre with a close coupled saw, flexibility, plus its speed in drilling and milling was much better than the competition.
For us, the Ficep linked automation is ahead of the competition and it's enabled Barrett Steel to increase capacity through improved productivity and reduction in direct labour costs."
Such was the success of recent additions of the Endeavour and the Tipo A31 Plasma, it proved to be the start of an investment into updating equipment and automation across the Barrett Steel sites. Another automated full preservation line with shotblast prime and paint line including several automatic saws is on order for Bradford, along with one of two Ficep Rapid 25T angle lines - one of which will be heading to give extra processing capability at Shoreham.
Industry knowledge is one of the primary reasons John and the Barrett Steel team continue to put their faith in Ficep.
"Ficep is a good partner who is working well within Barrett Steel, with good communication at various levels within both businesses. Throughout the Bradford installation we had regular update meetings and a constant site presence ensured that the project was a success.
Add to this their many years of experience and excellent knowledge of our industry, it's no surprise they're the market leader in what they do."
Chris Berriman, UK Sales manager at Ficep added:
"The close working relationship between Ficep and Barrett Steel, has helped both companies develop the best technology available in automated equipment and systems for steel processing. We're proud to have helped Barrett's grow in the past decade and we look forward to supporting the next expansion for future decades with their latest investment"