Over 90 Years

industry expertise

Largest

facility & product range

Leaders

in the technology market

UK Based

service department
Ficep drilling line installed as part of £multi-million Scottish firm expansion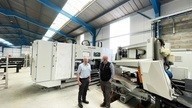 Ficep UK has supplied its Valiant CNC drilling line to Scottish engineering and construction firm, AJ Engineering, as part of its multi-million-pound expansion which has seen the business expand its Forres-based manufacturing site by 4.7 acres.
Ficep's fully automated Valiant line will help AJ Engineering to double its production capabilities and is already driving up demand for services. AJ Engineering turned to Ficep to provide a solution to help increase efficiency and increase throughput at a lower production cost, and the Valiant CNC machine fit the bill.
The Ficep Valiant is a three-spindle system for the processing of the full range of rolled structural steel shapes. It carries out the marking, drilling and cutting tasks on long steel sections, freeing up AJ Engineering's skilled workforce to focus on complex fabrications. Amongst the Valiant's key features are its tool-change system which accommodates up to six tools per spindle; double vices and dual alignment systems to improve material clamping; as well as sub-axis spindle positioning that enables simultaneous drilling on all three surfaces.
Chris Berriman, Ficep's Sales Manager, says: "The machine was delivered and installed ahead of schedule, in less than one month. Alan James, Managing Director of AJ Engineering, has already commented on how impressed he is with the accuracy of the machine and that the engineers are able to set up and test the machine with vernier callipers to points of millimetres, which is not industry standard.
"When selecting the machine, it was also critical to AJ Engineering that they could use their 3D model data and not only drill and cut steel, but also scribe layout marks on the main members where the fabrication is to be processed. With the Valiant, their operators have reduced manual inputting and have peace of mind that information is correct to the drawings, along with the added bonus of the milling copes, notches and service holes."
Alan James, Managing Director of AJ Engineering, says: "Working with Ficep has been extremely positive, from the initial introduction to the capabilities of the machinery, to the ordering process which happened virtually due to the pandemic, to the installation ahead of time, and right through to the extensive training we have received. Also important to AJ Engineering was the fact that Ficep have a "family" of machines which, in time, can be added to existing manufacturing process at Forres.
"The machinery gives back time to our highly trained staff so they can concentrate on the more technical projects and no longer have to spend time measuring or marking beams or drilling them - the new machine now does this automatically from the details downloaded directly from our drawing office. With this technology, and having more operators available, we will be able to seek a greater number of complex projects. It's a very exciting time for us."