Over 90 Years

industry expertise

Largest

facility & product range

Leaders

in the technology market

UK Based

service department
Ficep systems take ACFS to the next level
Investment in Ficep UK's automated drilling and profiling lines has helped Wolverhampton-based Advanced Cold-Formed Sections (ACFS) to maximise its levels of factory prefabrication, reduce fabrication time, improve quality, and save significantly on material costs.
ACFS, which is part of the Metek group, manufactures light steel frames, stud and tracks as well as floor and mezzanine cassettes and cladding rails, primarily for the residential, hotel and student accommodation markets. The investment in two new Ficep systems - the Excalibur 12 drilling system and Kronos 153 PC plasma profiler - comes as part of ACFS's continued commitment to driving innovation and meeting long-term sustainability objectives.
The new Excalibur and Kronos systems are now installed at ACFS's 7900m2 facilities in Wolverhampton. Since purchasing the machines, which operate out of two separate units, ACFS owner, Oliver Rogan, reports a 120% increase in output of materials and a significant reduction in welding time with 42% fewer welders needed to produce its product range.
ACFS's Excalibur is a high-quality CNC drilling system with an 18-metre bed which allows them to carry out tasks including scribing, ID marks, notches and copes as well as drill all the holes. Its milling out capability has enabled components to be connected with a single bolt, helping with cost reduction. According to Oliver, the Excalibur alone has enabled ACFS to process a record breaking 60 tonne job in five days with only five welders. It also allowed the company to process beams that its stockholders were not able to process.
The new Kronos system - a heavy-duty gantry-style thermal cutting system - gives ACFS a reliable and high-quality cutting solution with a superior level of accuracy, ensuring that the products meet the end users' exacting needs and thus further saving time and material handling costs. This machine also generates plasma marks for the intersecting 'match marker' on the fittings to enable the downstream fabricator to simply weld the parts together.
For ACFS, Ficep's software interface is also of huge benefit. The Excalibur and Kronos CNC system's software allows for remote diagnosis that allows Ficep's service team to perform system diagnostics and routine checks. The additional option of the offline nesting software allows ACFS to nest individual parts into bars for multiple processing with less handling and also reduces the stock length of material with optimised nesting for purchasing or from stock when required.
Oliver says: "The results have far surpassed our expectations. The systems help our welders to speed up production and reduce NCRs, giving us an end result that fits together seamlessly. As we continue to push ahead with innovation and sustainability, the Ficep systems help us work towards reducing our carbon footprint.
"Our journey with Ficep has been far from typical, due to the restrictions brought about by the pandemic. We came to the market at the start of the pandemic and Ficep carried out the sales process in a virtual capacity. We had live online demonstrations from Ficep's HQ in Italy and a virtual tour of one of its customer's machines, which gave us the confidence to make this significant investment.
"Having the Ficep team on the ground, based in the UK has also been of a huge advantage. The honesty and integrity of the team at Ficep was clear from get-go and we have been very impressed with how fast, willing and capable they have been in providing solutions that help us to be a better, more productive business."
Says Chris Berriman, UK Sales Manager at Ficep UK: "ACFS is a brilliant example of a business which is daring to do things differently for the benefit of its customers and is reaping the rewards. We expected the systems would help them achieve the increases in productivity and reduction in waste that they aimed for and we are pleased that they are going beyond ACFS's, and our, expectations."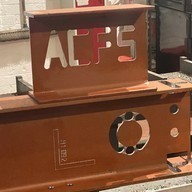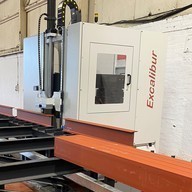 ACFS owner, Oliver Rogan, reports a 120% increase in output of materials and a significant reduction in welding time with 42% fewer welders needed to produce its product range.