Over 90 Years

industry expertise

Largest

facility & product range

Leaders

in the technology market

UK Based

service department
Kronos
Kronos HP, SP & PC are heavy duty gantry style thermal cutting systems engineered for steel fabricators who manufacture connection plates, gussets, stiffeners, etc. from stock material.
Key Features of the Kronos:
Oxy Torches: Kronos HP & SP series can be equipped with up to four oxy cutting torches to cover all manufacturing needs.
Hypertherm Plasma Units: One or two high-definition plasma torches, for straight or bevel cut, from Hypertherm HPR130XD to the brand new Hypertherm XPR300: Kronos lines can really satisfy all cutting requirements.
Hypertherm True Hole: Hypertherm true hole technology is available on this model.
Cutting Bench: Bench made of a sturdy grid suitable to guarantee the stable positioning of the plate during the processing. The bench is pre-arranged to receive the fume exhaust and filtering system.
Fume Exhaust System: The exhaust system filters the fume generated by thermal cutting operations. The air is cleaned according to the latest health and safety requirements.
Double Gantry System: Kronos HP & SP series can be combined in tandem with another Kronos or with our Gemini plate cutting and drilling system to optimize the productivity with lower costs.
Drilling Unit: Kronos HP & SP series have the possibility to be equipeed with a drilling unit with 4 positions tool changer, to allow pre-hole operations.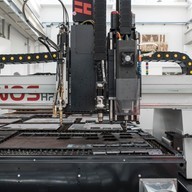 Processes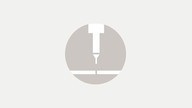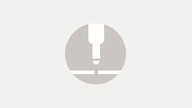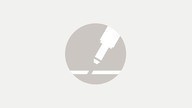 Tech Specs
| AUTOMATIC GANTRY CNC THERMAL CUTTING SYSTEM FOR PLATES – KRONOS | KR25SP | KR32SP | KR36SP | KR25HP | KR32HP | KR36HP | KR204PC | KR206PC | KR153PC | KR208PC |
| --- | --- | --- | --- | --- | --- | --- | --- | --- | --- | --- |
| Plate size [max mm] | 2540x6000 | 3100x6000 | 3600x6000 | 2540x6000 | 3100x6000 | 3600x6000 | 2000x4000 | 2000x6000 | 1500x3000 | 2000x8000 |
| Plate thickness with plasma [max mm] | 80 | 80 | 80 | 80 | 80 | 80 | 65 | 65 | 65 | 65 |
| Plasma straight torches [max no.] | 1 | 1 | 1 | 2 | 2 | 2 | 1 | 1 | 1 | 1 |
| Plasma bevel torches [max no.] | 1 | 1 | 1 | 2 | 2 | - | - | - | - | - |
| Plate thickness with oxy [max mm] | 150 | 150 | 150 | 150 | 150 | - | - | - | - | - |
| Oxy-fuel torches [max no.] | 4 | 4 | 4 | 4 | 4 | - | - | - | - | - |
| Drilling heads [max no.] | 1 | 1 | 1 | 1 | 1 | - | - | - | - | - |
| Drilling tools per head [max no.] | 4 | 4 | 4 | 4 | 4 | - | - | - | - | - |
| Drilling diameter [max mm] | 16/24 | 16/24 | 16/24 | 16/24 | 16/24 | - | - | - | - | - |
| Spindle power [kW] | 5,5 | 5,5 | 5,5 | 5,5 | 5,5 | - | - | - | - | - |
| Machine weight [kg] | 2500 | 2800 | 3000 | 2500 | 2800 | 3000 | 5000 | 7500 | 4000 | 10000 |
The main advantages:
Long term accuracy and high reliability.
Installation of the overall system in one step with possibility to add a second system at later stage.
Kronos PC model available for plasma cutting with integrated table and electric cabinet for space saving and reduced installation time.
Remote diagnosis is possible through a network connection that allows our service team to perform routine checks